Pray With Us
Worship at BI
There are many ways to participate in prayer at Beth Israel. Whatever your level of Jewish religious observance and spiritual practice, you are welcome to join our services. In Judaism, learning is doing—and questions are always welcome.
Daily Minyan
Daily minyan offers a peaceful, contemplative way to begin and end the day. Beth Israel members join for morning and evening minyan year-round during the workweek and on Sundays. Together, we strive to ensure that BI provides a sacred space where anyone living in or passing through the Greater Worcester area can say Kaddish in memory of a loved one and have a positive and meaningful prayer experience. We usually meet in the Kulin Chapel. Currently, with the chapel being renovated, we are meeting for evening minyan in the courtyard (weather permitting) or in the Social Hall if the weather is inclement. The service can also be accessed via Zoom. Morning minyan is currently Zoom only. Please see Service Schedule for times.
Shabbat
Shabbat at Beth Israel offers an opportunity to celebrate the Sabbath on both Friday night and Saturday morning. Services are in Hebrew and English; our Lev Shalem prayerbooks include English translations. We primarily use the JPS Etz Hayim chumash for Torah and Haftorah readings and commentary. Beth Israel is an egalitarian community, and all genders are counted in the minyan and can participate in all aspects of the service.
We offer Kabbalat Shabbat and Shabbat morning services both in person and online via Zoom. Please see our Covid policies here. Links are available to members via the member's website portal or weekly emails. For more information, please contact the BI Office.
Holidays
On the High Holidays, Rosh Hashanah and Yom Kippur, our extended services, led by our Rabbi and shlicheh tzibor, provide an uplifting opportunity for prayer and introspection to begin the Jewish New Year. You'll find details in the fall on our Service Schedule.
For the major festivals—Sukkot, Shemini Atzeret, Simchat Torah, Passover and Shavuot—we follow a similar schedule as for Shabbat. Minor holidays—Hanukkah and Purim—as well as the intermediate days of Passover and Sukkot, are marked in our daily minyan services.
Fri, December 8 2023
25 Kislev 5784
Born at BI Sunday Breakfast Series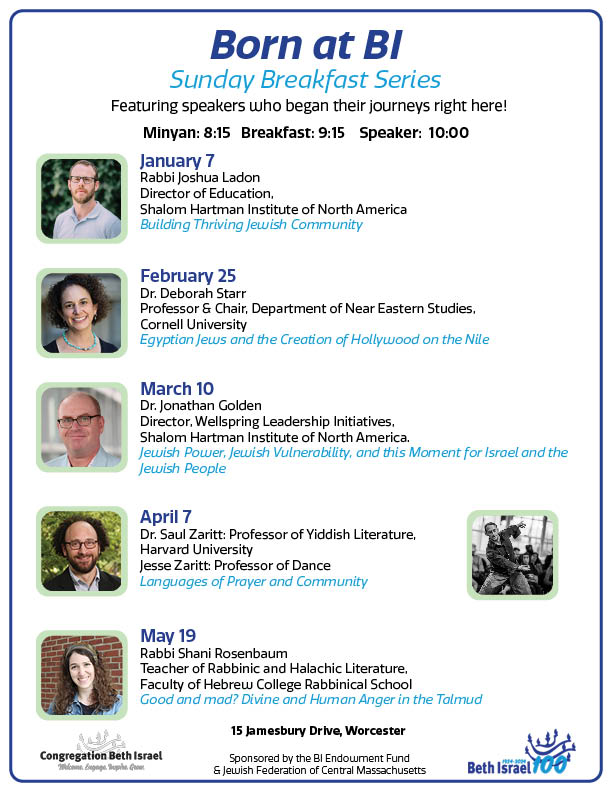 Fri, December 8 2023 25 Kislev 5784