BI Brotherhood
BI Brotherhood
Looking for a way to connect with fellow Jewish men for good company and great programs in service of Congregation Beth Israel? BI Brotherhood is for you!
Our programs (online until we can gather in person again) include:
Sunday morning Brotherhood Breakfast, with good food, great conversation and timely speakers (monthly for now).
Hearing Men's Voices discussion group
World Wide Wrap on SuperBowl Sunday, introducing the mitzvah of tefillin
Brotherhood Shabbat
Brotherhood Dinner for paid-up members
BI Community Annual Summer Barbecue
Fundraising for BI programs and events; gift of Etz Hayim to all B'Mitzvah; Yom Hashoah yahrzeit candles for all congregants
Layman's Institute annual weekend retreat with guest Jewish Scholars-in-Residence
We are affiliated with the Federation of Jewish Men's Clubs New England Region and participate in the Keruv Initiative to help lead the Conservative movement in the acceptance of non-Jewish men and women who seek to participate in our Jewish community life.
We'd be happy to have you join us. Please leave your name and contact information with the BI Office, and one of our officers will be in touch with you, soon.
Fri, December 8 2023
25 Kislev 5784
Born at BI Sunday Breakfast Series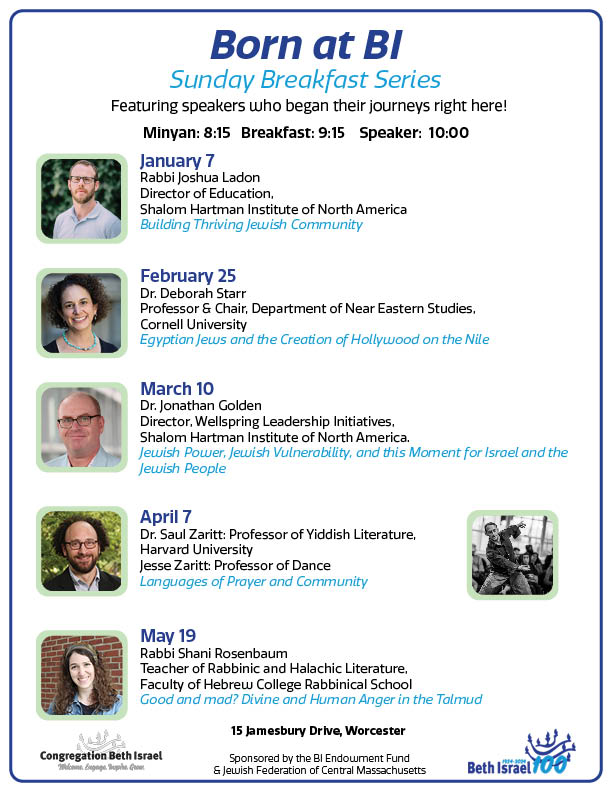 Fri, December 8 2023 25 Kislev 5784