For Youth
For Youth
Among the best ways for children to learn about Jewish study and practice is to bring them to BI on Shabbat and holidays. Kids are always welcome at Beth Israel! See Calendar for upcoming programs and events.
BI is also home to an enthusiastic group of USYers (United Synagogue Youth) who gather for socializing, community service and great discussions with our Rabbi.
While most of our programs are currently online, there are still plenty of ways for kids and young families to connect with each other remotely while learning about Judaism.
Tot Shabbat meets monthly on the first Saturday morning of the month at 10:30. Geared towards families with children five and under, this program is an all-singing, all-dancing, all-storytelling rendition of a brief Shabbat morning service. At 11:15, the Tot Shabbat crowd is hosted by Rimon students for snack, Torah discussion, and social time. It's a great way to enjoy Shabbat and get a taste of the Rimon Religious School program.
Rimon, Congregation Beth Israel's Religious School, brings Jewish learning alive with a hands-on. discovery-oriented experience that centers on the child, engages the family, and treasures the community. Our vision is for children to question, learn, and grow, creating a vibrant Jewish identity and future arising from the love and knowledge of our rituals, history, and tradition.
Kehillah High, Community Jewish High School Program, our community Jewish high school, helps students develop strong Jewish identities and the skills to actively engage in the diverse mosaic of Jewish life. Kehillah High nurtures life-long Jewish learning and values and teaches participants how to lovingly and critically engage in the world around them as Jews. For students in grades 8-12. Contact the Rabbi for information. During the pandemic, BI Kehillah High students are participating online in Hadar's Project Zug and other special programs.
Prozdor of Hebrew College in Newton brings together Jewish teens of all denominations from throughout Greater Boston and Southern New England for a rigorous text-based curriculum and a wide menu of informal Jewish education experiences. For students grades 8-12.
Central Massachusetts and Greater Boston also offer a range of community Jewish educational opportunities for children and teens, including Jewish day schools for elementary, middle-school and high school students. Our families with young children love participating in PJ Library and other programs supported by the Jewish Federation of Central Massachusetts.
Fri, December 8 2023
25 Kislev 5784
Born at BI Sunday Breakfast Series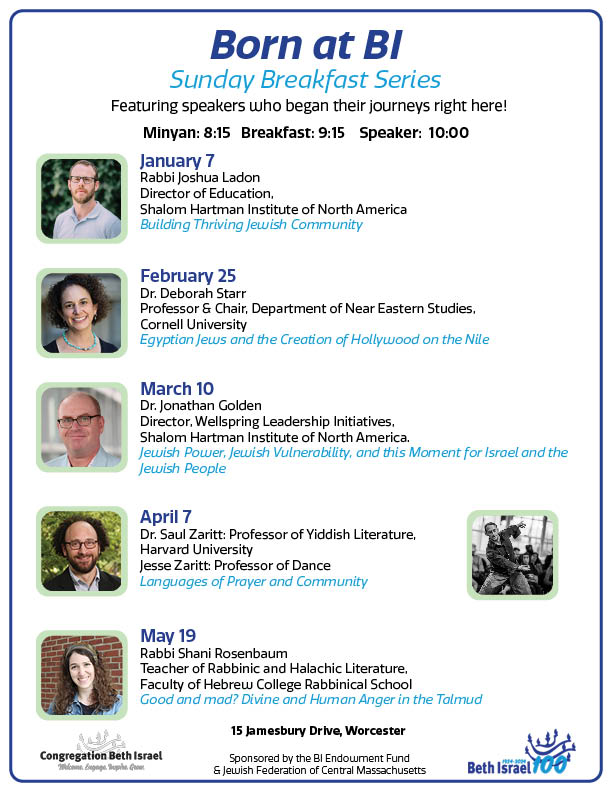 Fri, December 8 2023 25 Kislev 5784