Facilities
It's easy to find your way around Beth Israel. Here's a quick tour, to help you get oriented. Our building is fully accessible and includes gender-neutral bathroom facilities.
The Lillian & Selig Glick Sanctuary is the heart of our synagogue, found just off the main lobby. The room can seat nearly 500 people; when doors to the adjoining Shapiro Social are opened, seating capacity expands to 1,450. With one of the largest and most flexible public seating spaces in the Central Massachusetts Jewish community, Beth Israel often hosts communal functions. Our bima is wheelchair accessible.
Renovated in 2014, the Shapiro Social Hall can comfortably seat up to 400 people for weddings, b'nai mitvah and other special events, as well as concerts and stage productions. A well-equipped, kosher kitchen adjoins the Social Hall. Please ask our office staff for a current list of approved caterers.
The Kulin Daily Chapel provides an intimate setting for weekday minyan, small weddings and some educational programs. Be sure to notice the Creation Story needlepoint wall hanging, hand-stitched by Sisterhood members. The easiest way to find the Chapel is to enter our building from the back parking lot. Go through the glass doors; it's on your right.
You'll find the Palley Library to your left, off the main lobby. Our diverse collection ranges from Biblical and Talmudic texts to folklore, humor, fiction and children's books. Members have borrowing privileges. The Library is also a comfortable space for smaller worship services, meetings, and other programs.
Looking for help? Step into our Administrative Office, to your right off the main lobby. Farther down the hall, you'll find our Rabbi's Office. Please be sure to check with office staff if you need an appointment.
Our School Wing, the long, two-story section of our facility that branches to the right of the main building, is home to two schools. Our Rimon Religious School, open to Central Massachusetts Jewish families, holds classes on the second floor and the Palley Library on Monday and Wednesday afternoons, as well as Shabbat mornings.
The first floor is home to Summit Academy, a K-12 therapeutic alternative school for students with high functioning Autism and other diagnoses.
Temple Park surrounds Beth Israel, providing room for school sports and recreation, the site of our annual L'ag B'Omer celebration, a great backdrop for wedding photos, and more. Four parking lots surround the grounds, with space for 300 cars. Visitors will find handicapped parking spaces and ramps to the left of the main entrance and at the rear of the building.
Fri, December 8 2023
25 Kislev 5784
Born at BI Sunday Breakfast Series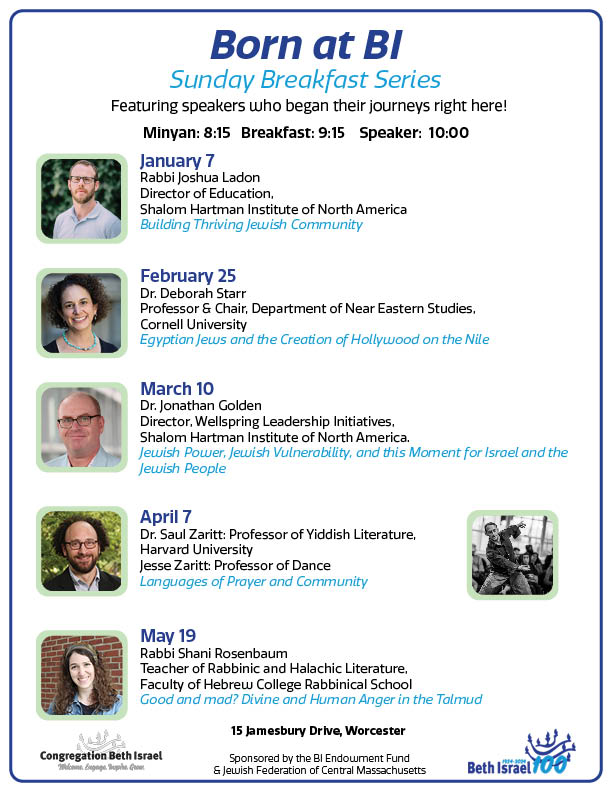 Fri, December 8 2023 25 Kislev 5784