Join BI
Why join Congregation Beth Israel?
Maybe you're looking for a place to call home for Shabbat and holiday worship that balances cherished traditions with an openness to the realities of a changing world.
Maybe you want a congregation that welcomes children and provides a safe space for questioning and religious inquiry—for members of all ages, backgrounds, identities, and walks of life.
Or maybe you're new to Judaism and want to learn what it's all about for you.
Perhaps you're seeking a social community where you can make new friends, volunteer for a good cause, and share your life-cycle celebrations within a Jewish context.
Or perhaps you want to be sure that you have Jewish clergy and a community you can turn to in times of trouble, sickness, and loss.
Any or all of those reasons—and more—are great reasons to join. As a BI Member, you'll become part of a supportive, extended family where you'll have room to grow Jewishly, a chance to make lifelong friends, and many opportunities to contribute to the life of the community.
Download a BI Membership Application.
We wish we could support our congregation on spiritual energy, alone, but we rely on membership dues to cover operating expense. We strive to make membership affordable. Our dues structure takes into account whether you are single or have a family, if you're a student or a senior. We'll be happy to answer any of your questions, and you're welcome to visit and get a good sense of our community before deciding to join.
For more information, please contact office@bethisraelworc.org. During weekday business hours, you may also contact the BI Office, 508-756-6204. Download a BI Membership Application.
Fri, December 8 2023
25 Kislev 5784
Born at BI Sunday Breakfast Series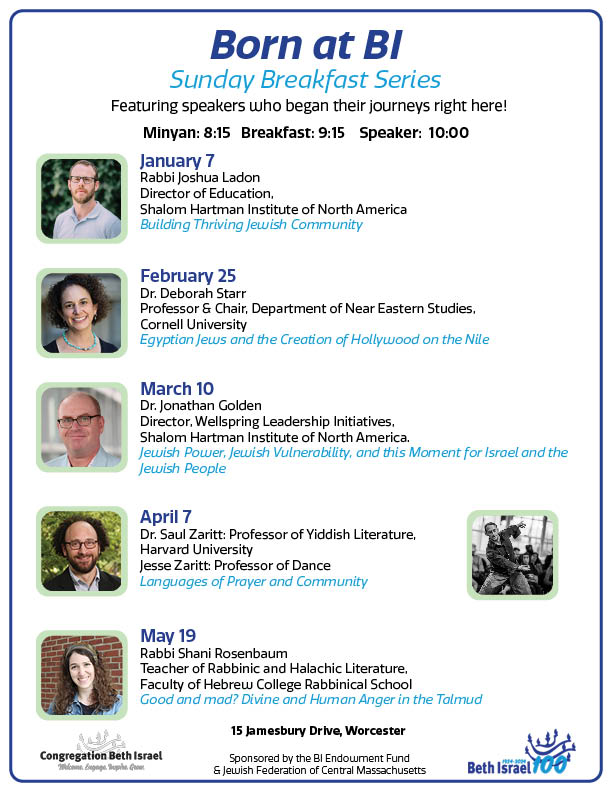 Fri, December 8 2023 25 Kislev 5784