Klezmer and Torathon
Saturday, November 4, 2023
•
20 Cheshvan 5784
6:30 PM - 10:30 PM
Beth Israel
Torathon 2023 presents:
The Wonderful World of Jewish Music

In conjunction with the 100th anniversary of Congregation Beth Israel
Saturday evening, November 4, 2023
6:30-10:30 p.m.
at Congregation Beth Israel, 15 Jamesbury Dr.
Join us for this year's exciting Torathon 2023 event! This year has a special theme focusing on Jewish music and the traditions that are an important part of our heritage. Torathon 2023 will open with a concert featuring Klezmer music and storytelling with The Jack Soref Klezmer Quartet. This concert is in honor of Congregation Beth Israel's 100th Anniversary. The concert will be available on Zoom for those who are unable to attend. (See link below.) After the concert, Torathon continues with your choice of eight musically-themed workshops. At 10:15 we will congregate for refreshments and some last songs to end this special evening. The entire community is invited to attend Torathon, free of charge, please register here.
This year, ALL DONATIONS will go to the Israel Emergency Campaign. Every dollar raised will go to support the campaign.

Donate Here
WE STAND WITH ISRAEL!!
Share Print Save To My Calendar
Fri, December 8 2023
25 Kislev 5784
Born at BI Sunday Breakfast Series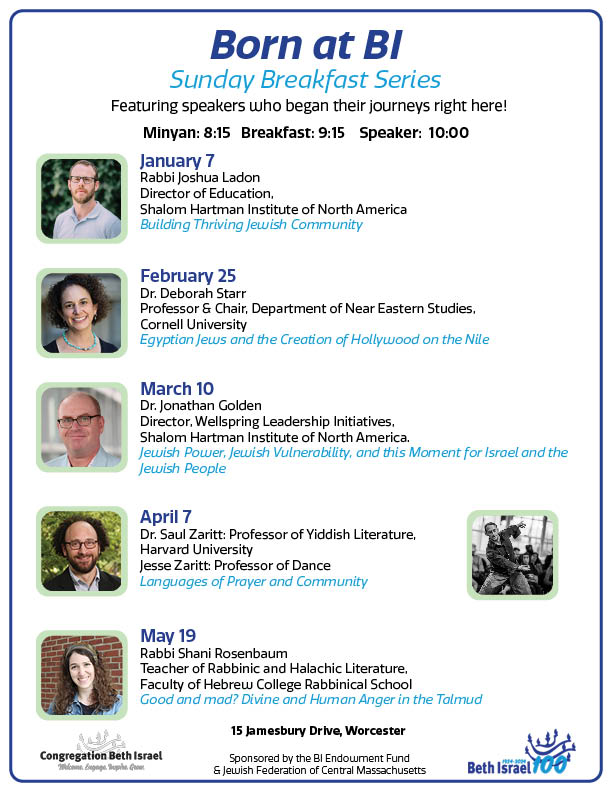 Fri, December 8 2023 25 Kislev 5784