Scholar in Residence Shabbaton with Rabbi Avi Strausberg
Past Sessions
Saturday, February 25, 2023

•

4 Adar 5783

-

9:30 AM - 3:00 PM
Friday, February 24, 2023

•

3 Adar 5783

-

5:00 PM - 9:00 PM
Important Notification: We've had to postpone our Scholar in Residence Shabbaton.
The New Date is February 24-25.

If you reserved a place at dinner and can attend on the 24th, you're set.
If you reserved a place at dinner but can't attend then, call the office and let us know. We'll arrange for a refund.
If you didn't reserve a place at dinner and want to come on the 24th, register below. Deadline is February 17 @noon.
Shabbaton with Rabbi Strausberg
Theme: "Worlds Within Words"
Come to the full Shabbaton or select portions. No charge for any of the sessions, except for the Friday night dinner. View a video introduction by Rabbi Strausberg here.
Registration form for dinner, info on home hospitality, and info on babysitting at the bottom of this page.
Schedule:
Friday
5:00 p.m. The Shabbaton begins with a welcome reception. We'll serve Mulled Cider and Cookies and have a chance to meet Rabbi Strausberg and welcome her to Worcester.
5:30 p.m. Kabbalat Shabbat/ Ma'ariv. A musical, spiritual Friday evening service led by Rabbi Fellman and Reena Slovin. Welcome Shabbat together!
6:30 p.m. Traditional Shabbat Dinner (with vegetarian options) for those who've preregistered. Cost is $20 for adults, $10 for age 5-12, $5 for age 3-5, free for under 3. Maximum cost per household is $60.
7:30 p.m. Study Session #1: THE POWER OF WORDS TO DESTROY AND CREATE
We'll use sources from the world of Hasidut and Musar (Jewish morality) to reflect upon the constructive and destructive power of language.
7:30 p.m. Babysitting for children under 10 will be provided during the talk.
8:30 p.m. Dessert - open to all
Saturday
9:30 a.m. Services begin
10:45 Rabbi Strausberg gives Dvar Torah - WORDS OF BLESSING AND CURSE: THE POWER OF LANGUAGE TO SHAPE REALITY - The positive aspects of language to rebuild
12:00 noon Kiddush lunch sponsored by the Brotherhood and the Zaritt family
1:00 p.m. Study Session
THE POWER TO NAME:WHO GETS TO WIELD LANGUAGE?
We'll look at both early rabbinic as well as modern feminist midrashim (interpretations) to explore the relationship between naming, identity, and self-determination.
1:00 p.m. Babysitting will be provided during the talk.
Need Shabbat home hospitality or transportation to BI on Friday and/or Saturday? Email reenaslovin@gmail.com
Need babysitting during the Friday night talk and/or the Saturday afternoon talk? Call the Beth Israel office at 508 756-6204.
If you are registering for dinner and need a vegetarian meal or have special dietary needs, please contact Reena Slovin reenaslovin@gmail.com
This Scholar in Residence Shabbaton is generously sponsored by Beth Israel's Endowment Fund along with the Krefetz, Slovin, and Zaritt Families.
Sorry, Registration has ended.
Share Print Save To My Calendar
Fri, December 8 2023
25 Kislev 5784
Born at BI Sunday Breakfast Series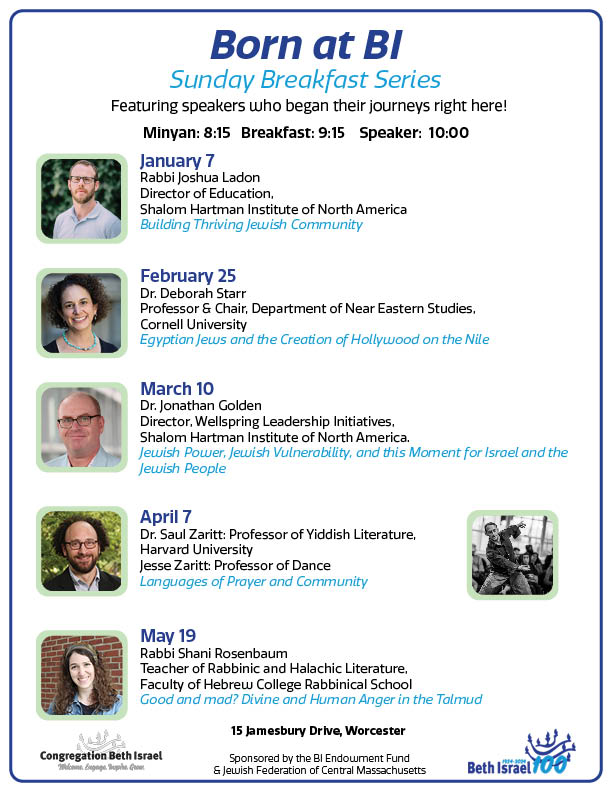 Fri, December 8 2023 25 Kislev 5784