Beyond Bagels: BI@100 Jewish Cooking Series
Upcoming Sessions
1. Sunday, February 4, 2024
•
25 Shevat 5784
1:30 PM - 3:30 PM
2. Sunday, March 17, 2024
•
7 Adar II 5784
1:30 PM - 3:30 PM
Past Sessions
Sunday, October 22, 2023

•

7 Cheshvan 5784

-

1:30 PM - 3:30 PM
Culinary author Carol Goodman Kaufman will teach 3 classes on the cuisines of the Ashkenazi (10/22), Sephardic (2/4), and Mizrachi (3/17) branches of the extended Jewish family. The content will be historical and hands-on.
This program will offer the opportunity to work with Carol as she creates selected recipes in the Congregation Beth Israel kitchen, or to join by Zoom in your own kitchen.
The series is free of charge and open to the community upon registration. To register, please call the office!
Share Print Save To My Calendar
Fri, December 8 2023
25 Kislev 5784
Born at BI Sunday Breakfast Series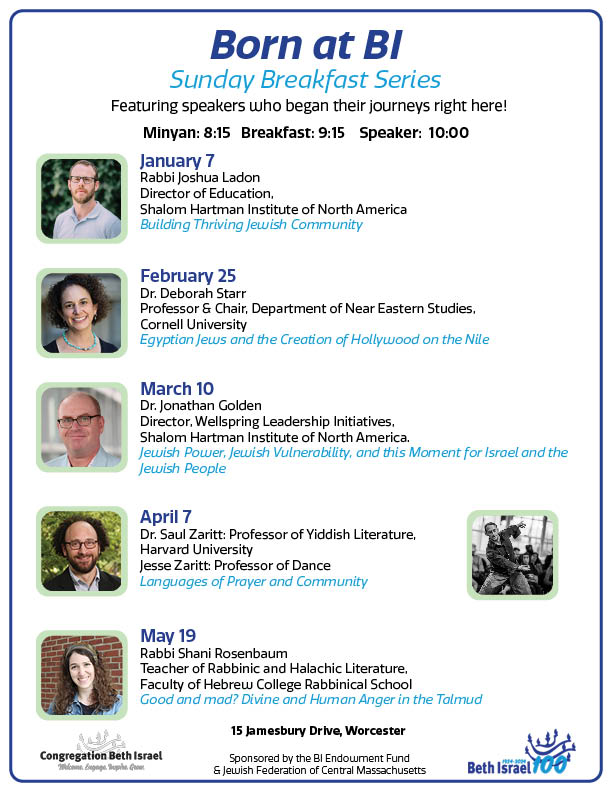 Fri, December 8 2023 25 Kislev 5784